Product Information
Product code:

10902
Category: Stirrup Leathers.
These stirrup leathers are soft to the touch yet extremely hard-wearing. Rounded edges and roller buckles of stainless steel are sewn in three times by hand and numbered holes ensure high comfort. These are 1 1/8″ wide and feature Stübben's signature blue dot at the bottom of the leather. 4-6 week lead time.
Lengths & Prices:
58″ – $137
61″ – $139
64″ – $153
Colors : Black, Ebony, Havana, Tobac
Price : $137-$153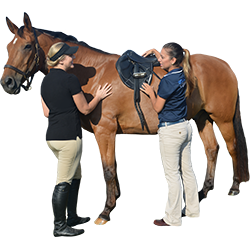 You and your horse can be custom fitted by an authorized Stübben Saddle Fitter. Click learn more below for all the details.
LEARN MORE