Product Information
Product code:

10911
Category: Stirrup Leathers.
These luxurious stirrup leathers are made of a soft yet durable leather with a very hard-wearing nylon core for safety. They also boast beautiful detail with their sculpted, fancy stitched ends. The left and right leathers are marked with a distinct "L" or "R" at the buckle to ensure there is no risk of damaging the seam when used properly. These feature Stübben's signature blue dot at the bottom of the leather. 4-6 week lead time.
Lengths & Prices:
52″ – $145
58″ – $158
61″ – $176
64″ – $181
Colors : Black, Ebony, Havana, Tobac
Price : $145-$181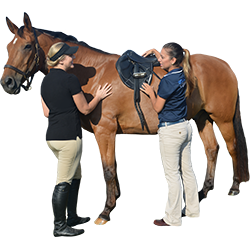 You and your horse can be custom fitted by an authorized Stübben Saddle Fitter. Click learn more below for all the details.
LEARN MORE