Product Information
Category: Bridles.
$318.00
This 3/4" bridle is the perfect compliment for horses with larger features. It has a wider crown, browband and noseband, and is available padded. The browbandand noseband arepadded. Available in french or combined caveson. Available as a double bridle (1010 for $420).
Sizes : Full, Extra Large ($350)
Colors : Black/Black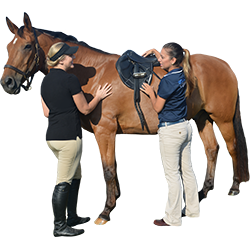 You and your horse can be custom fitted by an authorized Stübben Saddle Fitter. Click learn more below for all the details.
LEARN MORE