Product Information
Category: Bridles.
$358.00
Rounded anthracite buckles and a cut-back crown (easy on your horse's ears) make this bridle extra special. Other features include a padded crown and caveson with a raised padded brow, and matched color stitching. With 1/2 inch cheeks. Comes in cob, full, extra large. Available with French and combined, or 2095 style sheepskin padded figure 8 for additional $30. Colors: black, ebony, havana or tobac.
Colors : Black, Ebony, Tobac
Sizes : Cob, Full, Extra Large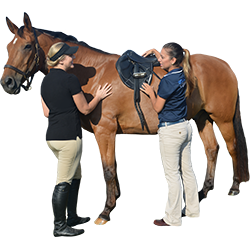 You and your horse can be custom fitted by an authorized Stübben Saddle Fitter. Click learn more below for all the details.
LEARN MORE