Product Information
Product code:

10839
Category: Girths.
$320.00
Anatomically shaped leather girth with triple elastic on both ends. Its shape provides the highest degree of elbow freedom and thus optimizes the horse's performance on the flat and over fences. The middle of the girth has rust-proof D-rings to allow the fastening of auxiliary reins. On the belly side, the leather girth has soft padding. On the outside, the girth is made of a robust, easy-care leather. 4-6 week lead time.
Colors : Black, Ebony, Tobac
Sizes : 48", 52", 56"
Out of stock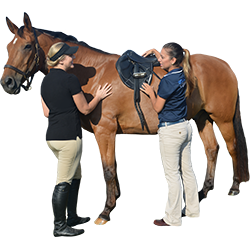 You and your horse can be custom fitted by an authorized Stübben Saddle Fitter. Click learn more below for all the details.
LEARN MORE