Product Information
Category: Halters.
Traditional styling, but wrapped and padded for a softer, smoother feel.
MSRP: $132.00-$146.00
Colors : Black/Black, Black/Bordeaux, Black/White, Ebony/Ebony, Tobac/Tobac
Sizes : Cob, Full, Extra Large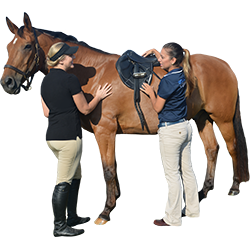 You and your horse can be custom fitted by an authorized Stübben Saddle Fitter. Click learn more below for all the details.
LEARN MORE