Product Information
Category: Girths.
$50.00
Finely crafted of 14 strands of non-chafing nylon that remains soft and pliable for the life of the girth. Stainless steel roller buckles allow for smooth and easy tightening. Available in dressage and regular lengths.
Sizes : 20" to 28" & 38" to 60" in 2" increments for brown & white. 20" to 30" & 38" to 60" in 2" increments in black.
Colors : Black, Brown, White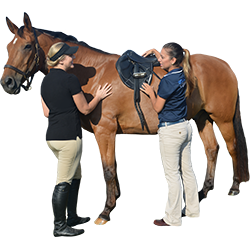 You and your horse can be custom fitted by an authorized Stübben Saddle Fitter. Click learn more below for all the details.
LEARN MORE