Product Information
Product code:

10910
Category: Stirrup Leathers.
These luxurious stirrup leathers are made of a soft yet durable leather with a very hard-wearing nylon core for safety. They also boast beautiful detail with their sculpted, fancy stitched ends. The left and right leathers are marked with a distinct "L" or "R" at the buckle to ensure there is no risk of damaging the seam when used properly.
47″ & 52″ – $145
54″ & 58″ – $158
61″ – $176
64″ – $181
Colors : Black, Ebony, *Tobac (select sizes)
Price : $145-$181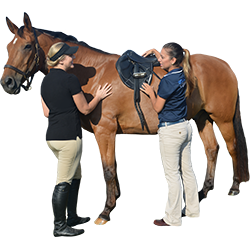 You and your horse can be custom fitted by an authorized Stübben Saddle Fitter. Click learn more below for all the details.
LEARN MORE