Product Information
Category: Dressage.
Many people believe that sustainable leather is something from the future, but it's here and it's spectacular.
Our new dressage saddle, Serenity, is crafted with full grain leather. The applied tanning agent is made of olive leaves and is ecologically sustainable. Its fragrance reminds you of a late summer's afternoon in the Mediterranean.
For more than 120 years, we've used saddle leathers made from natural vegetable tanning agents. The newly developed wet-green® OBE tanning agent is extracted from the leaves of the olive tree using a method similar to brewing tea, and is made in plants complying to the stringent demands of the food industry.
In Europe, around 12,000,000 tons of olives are harvested every year, and leaves account for around 10% of the harvest weight. These leaves are used by wet-green® to extract its plant-based active ingredient. The olive leaves used are a by-product for olive growers, and in many locations are actually burned. We use this unwanted by-product and help protect our climate while doing it.
The Serenity comes standard with a special deluxe leather, narrow twist tree, a stabilizing billet system and gusset panels. Special features include a larger channel space and a special soft seat that is seamless.
Starting at $4,195.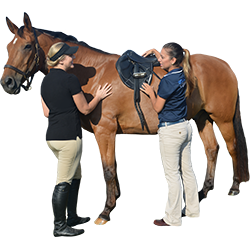 You and your horse can be custom fitted by an authorized Stübben Saddle Fitter. Click learn more below for all the details.
LEARN MORE
Riders who like D Serenity