Product Information
Product code:

10052
Category: Reins.
$130.00
High quality, extra narrow rubber reins with a good grip in addition to their softness.
Colors : Black, Ebony, (Tobac available upon request)
Lengths : CS/FS - 55"/140cm, XL - 60"/150cm $143, (Pony - 47"/120cm available upon request)
Out of stock
SKU:

10052
Category: Reins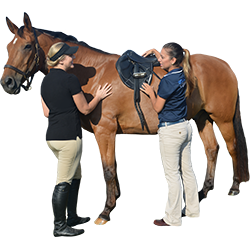 You and your horse can be custom fitted by an authorized Stübben Saddle Fitter. Click learn more below for all the details.
LEARN MORE