Product Information
Categories: Sweet Copper, Bits.
$79.00
Sweet Copper for better acceptance.
Balanced pressure on tongue and bars with no palate pressure.
No nutcracker effect.
Available with 18mm mouth piece: 2422
More forgiving to mistakes caused by rider's strong hands.
Loose rings enable horse to position bit in his mouth.
Rein tension positions the bit ideally for easy acceptance.
Ring size: 70mm

Sizes : 5", 5 1/4", 5 1/2", 5 3/4", 6"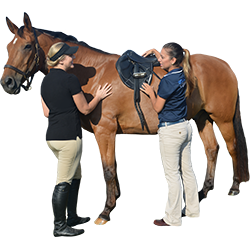 You and your horse can be custom fitted by an authorized Stübben Saddle Fitter. Click learn more below for all the details.
LEARN MORE