Product Information
Categories: 2 in 1, Bits.
$75.00
D-rings allow bit to act on the outside of the mouth.
D-rings provide a more stable position in the horse's mouth.
D-rings are more gentle on the lips and corners of the mouth.
If the + sign is on the near side, the angular edge is employed.
If the + sign is not visible from the near side, the softer rounded edge is in use.
The angular edge provides stronger effect when buckled toward the tongue.
The rounded edge diffuses tongue pressure and is good for sensitive horses.
Two different types of pressure available in one bit tailors the rein aid to the horse.

Sizes : 5", 5 1/4", 5 1/2", 5 3/4"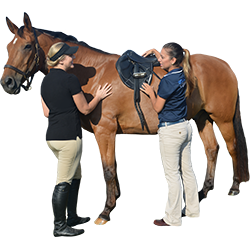 You and your horse can be custom fitted by an authorized Stübben Saddle Fitter. Click learn more below for all the details.
LEARN MORE