Product Information
Categories: 2 in 1, Bits.
$75.00
Sweet Copper link promotes salivation for better acceptance.
Balanced pressure on tongue and bars with no palate pressure.
Two different types of pressure available in one bit tailors the rein aid to the horse.
The angular edge provides stronger effect when buckled toward the tongue.
If the + sign is on the near side, the angular edge is employed.
If the + sign is not visible, the softer round edge is in use.
Thickness: 16mm/Ring size: 70mm

Sizes : 5", 5 1/4", 5 1/2", 5 3/4"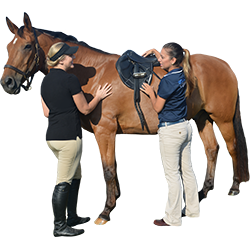 You and your horse can be custom fitted by an authorized Stübben Saddle Fitter. Click learn more below for all the details.
LEARN MORE