Product Information
Category: Cold Wraps.
$116.00
• Removes Heat much longer than ice
• Molds to Any Shape Right Out of the Freezer
• Won't Burn
• No Ice, No Water, No Mess
• Independent 3rd Party Tested
• Reusable up to 400 times or more
• Stays soft and pliable when frozen
• Produced and patented in Germany
• Non-toxic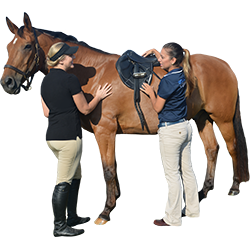 You and your horse can be custom fitted by an authorized Stübben Saddle Fitter. Click learn more below for all the details.
LEARN MORE