Product Information
Product code:

10721
Category: Breastplates.
$125.00
This martingale is made of top quality cow hide with silver-colored fittings. In addition to the conventional options for adjustment, the separate, adjustable fork ensures an individual fit. The martingale rings are made of a high-quality and ultra-light plastic material with a smooth sliding surface for reins.
Colors : Black, Ebony, (Tobac available upon request).
Sizes : Cob, Full, (Pony & XF ($138) available upon request)
Out of stock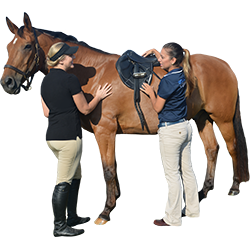 You and your horse can be custom fitted by an authorized Stübben Saddle Fitter. Click learn more below for all the details.
LEARN MORE